How to buy Ventolin?
Ventolin inhalers can be bought in-person or online once you have obtained a prescription from a medical professional such as your doctor or asthma nurse. Valid UK prescriptions can be taken to your nearest pharmacy for collection. Alternatively, you can do this process solely online if you don't have the time, can't get an appointment or aren't able to go collect your medication in-person for whatever reason.
In the UK once you have a valid prescription slip from a medical professional, the medication you collect will be completely verified and safe for you to use. This is whether you decide to obtain it over the counter or online. When buying online, look out for the valid certification marks and ensure they are asking all the relevant questions about your condition.
Is it safe to order online?
When ordering from a certified online pharmacy, you can be ensured that your medication is safe. If the pharmacy doesn't ask you to complete essential health and medical question, however, this is a telltale sign that the website isn't certified. The website should also display clear signs that it is registered and approved by the relevant authorities. In the UK, this includes being registered by the MHRA, GMC .
All medication will be delivered in tamper proof packaging complete with the full patient leaflet, which confirms that the medication is clinically proven and highly effective.
What is included in the price?
When ordering Ventolin online here at Medilico, this is an all-inclusive price including the prescription, consultation, medication and delivery. There are no hidden costs. The price adjusts depending on the dosage and quantity you have ordered.
Can you buy without a prescription?
No. In the UK, for clinically proven treatment like Ventolin inhalers you will need to obtain a prescription. To do this, you can visit your doctor for a diagnosis. This doesn't take long and confirms the medication is good for you to use. You will also be recommended the best dosage and can ask for a demonstration on how to use. Considering one in three asthmatics uses their inhaler incorrectly, it is worth absorbing the medical professionals knowledge.
Once you have been recommended your inhaler, you can buy your treatment online thereafter. This saves the time and effort spent attending a doctor's appointment for a repeat prescription, especially if you are 100% satisfied with the treatment. At Medilico, if you order before 4.30pm, you will receive Ventolin at your preferred address before 1pm. To buy Ventolin, complete a quick consultation to be reviewed by our UK registered doctor.
What is Ventolin used for?
Ventolin uses the active ingredient salbutamol to reduce and diminish the symptoms of asthma. It can also be referred to as a bronchodilator, a reliever inhaler or salbutamol sulfate. Ventolin can also be used to combat chronic obstructive pulmonary disease (COPD) and chronic bronchitis. It is a fast-acting medication that can offer an asthmatic relief from symptoms within minutes of taking.
The Ventolin inhaler can be used before strenuous activities to minimise the chances of experiencing any symptoms that could develop into an asthma attack. Ventolin can also be used during an asthma attack. Thirdly, Ventolin is used to reduce mild symptoms when they arise.
A bronchodilator's main advantage is it relaxes the airways allowing more air to flow in and out. This action has a knock-on effect with other asthma symptoms by relieving the tightness you can experience in the chest, any wheezing or coughing.
Ventolin is generally used on a sporadic basis when absolutely needed. However, it can be used periodically up to four times a day. This means many asthmatics with mild symptoms rely on Ventolin. As there are many levels of asthma, you should arrange an appointment with your doctor initially to confirm Ventolin is right for you, and the frequency in which you need to use it.
How does Ventolin work?
The most common way Ventolin is used is when sprayed directly into the mouth. It works quickly to open up the airways within minutes. This is because Ventolin is directly administered to the cause of the discomfort. Clinically proven to ease breathing difficulties experienced by asthmatics, Ventolin relaxes airways that have reacted to your particular asthmatic trigger. Due to its quick nature, Ventolin is classed as a reliever inhaler and seldom used as a daily treatment for asthma.
The symptoms that Ventolin can alleviate include wheezing, coughing and shortness of breath whilst taken in the midst of a trigger or attack. However Ventolin is a dual-action inhaler as it can be used by asthmatics troubled by strenuous exercise, any allergies or other predictable triggers to prevent as well as treat the condition.
Ventolin is popular amongst athletic asthmatics that exercise regularly however other triggers that can warrant a Ventolin Evohaler or Accuhaler include pollen, dust, all allergies including pets, cigarette smoke and even pollution.
Salbutamol sulfate is also available as a generic medication whilst Ventolin is the familiar brand name.
More about salbutamol
Salbutamol sulfate is the only active ingredient in Ventolin and is highly effective at combating the symptoms of asthma. Also known as a beta 2 receptor, this medication causes the aggravated airways to relax by provoking receptors already present in the lungs. Working with the lung receptors, salbutamol opens restricted airways making it easier to breathe.
Due to the nature of salbutamol aiding restrictive airways, this helps many symptoms of asthma but also COPD and other respiratory conditions such as chronic bronchitis.
How to use Ventolin
Whilst Accuhalers and Evohalers are the most common type of inhaler when considering Ventolin, salbutamol is also available in the form of nebulas, respirator solution, syrup and even an injection. At NEW SITE NAME, we offer both Accuhalers and Evohalers, however, if you require another type of Ventolin there is a brief explanation of all Ventolin treatments below as well.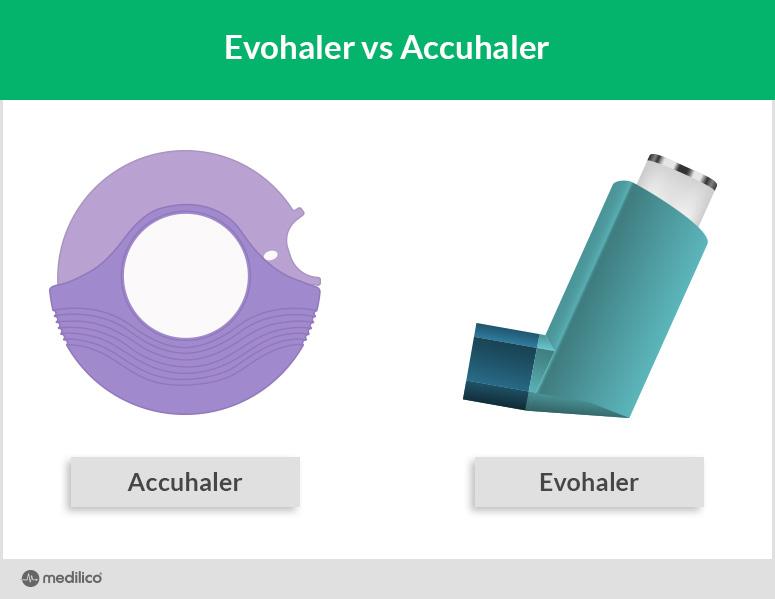 The instructions below are for using an inhaler for yourself, however, if you help a loved one with their technique, you will need to practice with them.
Accuhaler
Accuhaler is a popular inhaler device for Ventolin. It is available in various dosages; your doctor will recommend the ideal dose for you. The most common dosage prescribed is 200mcg to be taken no more than four times a day. The standard dosage each time is just one puff of 200mcg.
Accuhalers differ in shape to the usual canister inhaler you are familiar with as they are circular shaped. This is because Accuhalers are in dry powder form, which is a preferred method for anyone who has trouble pressing down on a canister whilst breathing in; for example children, the elderly or if you have joint issues.
When opening the Accuhaler, this breaks the next blister pack in the medication. The medication is activated as you breathe in and requires no action from your fingers:
Shake the Accuhaler well
Open the device and breath out fully
Place to your mouth and take a deep inhale
You will feel the medication release
Try to hold your breath for around 10 seconds
Wait at least 30 seconds before the second puff
Always read the patient leaflet
The Accuhaler can be taken with or without food and it does not affect your ability to drive or operate machinery.
Evohaler
Evohaler are the stereotypical inhaler you think of when picturing asthma medication. This type of inhaler is sometimes called a metered dose inhaler (MDI) or an aerosol inhaler. It is a canister/aerosol of treatment that is pressed down to release the medicine. The dosage of Ventolin Evohaler is 100mcg, and many asthmatics also choose or are advised to use a spacer. A spacer is a plastic bubble style device that the inhaler is attached to at one end. You press once and breathe in fully through the opposite end. This makes ingesting the medication correctly easier and reduces the chance of oral thrush and sore throats.
Evohaler is usually taken in clusters of two puffs, however, a wait between both is advised. The amount of Ventolin 100mcg Evohaler you can take in one day can vary and your doctor will recommend the ideal maximum dosage. The typical daily dosage is four times a day for regular users as a maximum. If you take Ventolin regularly, if you miss a dosage, just take two puffs as soon as you remember.
Shake well before use
Take off the cap and breathe out fully
Place the Evohaler to your mouth
Press down on the canister and breath in simultaneously
If you struggle with this, acquire about using a spacer
Hold your breath for approximately 10 seconds
Wait at least 30 seconds before the second puff
Always read the patient leaflet
The Evohaler can be taken with or without food and it does not affect your ability to drive or operate machinery.
Using a spacer
Spacers, or bubbles, are basically plastic hollow devices/chambers. They come in two sizes and are transparent. The bigger model is diamond shaped and generally used for children or the elderly, especially if they need additional assistance. There is also a thin, smaller model that comes with the added benefit of making a whistling sound if you're breathing in too rapidly. They are only to be used with pressurised canisters such as the Evohaler.
Spacers are great if you find it difficult to inhale the medication effectively as it places the medication in this chamber so you have more time to breath in. A spacer is effectively a waiting room for the medication. Any asthmatic can request a spacer if they feel it will be beneficial to their condition.
Shake the inhaler before use
Attach the inhaler to the indented end of the spacer
Breathe out before placing the spacer to your mouth
Place your mouth around the opposite end
Press down on the inhaler
Breathe in slowly
If you hear the whistling on the newer model, slow your breathing down further still
Hold your breath for up to 10 seconds
It is also advised to clean your spacer periodically. Remember to let the inside of the spacer air dry; do not dry with a towel as this causes static.
Using an Accuhaler or Evohaler with sport and exercise
As this is a common reason many asthmatics use Ventolin, it's important to know how to use it correctly. The best practice is to use Ventolin up to 15 minutes before you plan to exercise, and not right before. This allows the medication time to work effectively. Make sure you remain still whilst using the inhaler and commence with a light warm-up and stretching for the first 10-15 minutes.
Nebules and respirator solution
Nebules and respirators are used in hospitals and aren't available to buy unless you experience severe asthma and/or frequent asthma attacks and severe COPD. They are instead administered in the hospital. The salbutamol medication is originally in liquid form, which then transforms into particles to be inhaled effectively.
Syrup
Ventolin syrup is for those asthmatic who have tried Evohalers with a spacer or Accuhaler and still find it difficult to take the medication correctly. Salbutamol used in this form isn't as quick as conventional Ventolin methods. This means salbutamol syrup (and it is available in tablet form taken similarly) should be taken periodically like a preventer inhaler. The daily dosage of this is usually three to four times a day. Your doctor will decide the correct dose and frequency.
Injection
Similar to a nebuliser or respirator, the injection is performed in hospital for symptoms of severe asthma or COPD.
Disposing of your inhaler
If you have used all dosages in your inhaler, or the device has expired, it is advised to dispose of it at a pharmacy or doctors. However do check with your doctor or chemist of the preferred method. This may differ with different areas but this also includes the materials used in the inhaler. For example, most inhalers are now made with a propellant called HFA 134a, which is much better for the environment.
Common mistakes when using Ventolin
As asthma is a long-term condition, and sometimes symptoms can be inconsistent, you may understandably make some mistakes. Here is the best way to combat them.
Not cleaning the inhaler
For Accuhaler, the only cleaning required is wiping the mouthpiece with a dry tissue after most uses. For the Evohaler, you can clean the inhaler once a week. This will stop the nozzle from becoming blocked. To clean your Ventolin Evohaler, please do the following:
Remove the canister from the plastic setting.
Rinsing in warm water easily cleans the plastic.
Dry the plastic thoroughly.
You can clean the plastic nozzle with warm water as well but it is important to keep the metal dry.
Forgetting the process
Over time, you can forget the process or become complacent with the routine. If you take Ventolin regularly and miss a dosage, just take the correct amount of puffs when you remember. Also remember to follow these basic tips to get the most out of your medication:
No slouching – sit or stand up straight
Taking deep breaths – exhaling fully before taking a breath then inhale fully
Direct the inhaler – make sure the inhaler is directed towards the back of your mouth
Knowing your triggers – avoiding symptoms whenever possible
Attending reviews – keep up to date with asthma reviews
Are you still using the right inhaler?
Being a chronic condition, asthma is long-term but it can vary over time. Many asthmatics find that if they have developed the condition in childhood, it does disappear or lessens in severity in adulthood. This means treatment can change over time. If you are noticing your current Ventolin inhaler isn't as effective as it used to be, you may need to increase your dosage. If that doesn't help, speak to your doctor about other options.
Ventolin dosages
Ventolin Evohaler is only available in a dose of 100mcg each puff. This equates to 200mcg each time. In each Evohaler, there are the 200 doses. This is a month's supply if used four times a day. Most asthmatics find that their inhaler lasts for months depending on how much they need it.
For the Ventolin Accuhaler, the only dosage is 200mcg per x2 puffs. This means the Accuhaler is taken once and not twice like the Evohaler. In the Accuhaler, there are fewer dosages in each device in comparison to the Evohaler; 60 doses in one 200mcg Accuhaler.
It is worth remembering that inhalers do expire. You can find this on Evohalers by taking the canister out of the plastic and checking the sticker. If you have a couple of inhalers on standby, it is advised to check the inhaler directly as you may mix up the packaging and the expiry dates may differ. On Accuhaler, the expiry is also on the device itself.
For Ventolin, your doctor will instruct you on how many puffs to take per 24 hours. The maximum dose for Evohalers is usually eight puffs in one day. Many asthmatics take two puffs each time so this equates to four courses throughout the day. If you feel like you require more, please visit your doctor. This means the dosage of Ventolin isn't effective enough for your strain of the condition. You may be offered a stronger reliever inhaler or advised to continue using Ventolin when needed but prescribed a preventer inhaler to be used daily as well.
Storing Ventolin
Every medication in the UK comes complete with a patient leaflet detailing how to take the medication. This includes storing your medicine as factors such as heat can alter its efficiency. Follow this practice with all of your Ventolin inhalers:
Avoid direct sunlight such as the windowsill
Keep below 30 degrees
Avoid ice and frost
If the metal canister is very cold, warm with your hands before use
Keep in a stable place where the canister won't puncture or split
Ventolin side effects
As with every clinically proven medication, there is a chance of side effects. With Ventolin, these are unlikely and the vast majority of asthmatics don't experience any of them. Some side effects are also mild and may disappear in a short space of time. You should always mention side effects even if they are manageable, especially with a condition like asthma that has many medications.
One reaction that affects up to one in ten asthmatics that use Ventolin is any changes to your heart rate. If you notice your heart is beating faster, stronger or is uneven, stop taking the medication and contact your doctor.
Those side effects classed as common happen in one out of ten Ventolin users and include a headache and feeling shaky or uneasy. Uncommon side effects affect one person in 100 and this includes mouth irritation, throat irritation (you may also experience a cough) and muscle cramps. Rare side effects affect one in 1,000 asthmatics; this includes a low level of potassium and increased blood flow to your extremities. Lastly, there are rare side effects that affect one in 10,000 people. This includes changes to your sleeping pattern and changes to your behaviour.
Some side effect symptoms could be a sign of an allergic reaction. These include any swelling especially on the face, a rash, if you're feeling light-headed or faint. For an allergic reaction, please contact your doctor straight away.
Ventolin precautions
If you are allergic to any of the ingredients in Ventolin inhalers, you will need to consult your doctor regarding alternative asthma treatments. Another precaution to take with Ventolin Evohaler and Accuhaler is how frequently you experience symptoms. This is also described as "active" asthma. If asthma is affecting your day-to-day life, you may need a stronger medication or an accompanying preventer treatment. Ventolin is meant for reliever use and is most effective with occasional use.
Other precautions associated with Ventolin include if you have high blood pressure, an overactive thyroid gland, heart ailments such as angina or a fast heartbeat, any seizure disorder such as epilepsy, diabetes, if you're taking water tablets or certain other medications. Other medications include:
Diuretics (water tablets)
Steroids that treat asthma (xanthine derivatives)
Certain herbal medicines
Medication used for an irregular or fast heartbeat
Some asthma medications
Some asthma medications do contrast with Ventolin, however, others are suitably paired together. If your condition is very "active" then there are certain preventer inhalers that are used daily that can be combined with Ventolin. Please arrange an asthma review with your doctor or asthma nurse to discuss appropriate options.
Ventolin and alcohol
A reaction between Ventolin and alcohol is not seen as severe, however, if you're taking Ventolin frequently or have taken a couple of puffs recently, it is best to refrain from drinking alcohol. This is because it is never advisable to mix prescription medication and alcohol.
Pregnancy and breastfeeding
Pregnant women usually use salbutamol inhalers during the nine months without issue. In fact, it is important for asthmatics to control their symptoms during pregnancy for the health of the baby as well as themselves. However, you must always ask your doctor or specialist nurse before using any medication when expecting.
In terms of breastfeeding, again this is fine for the vast majority of women. Whilst salbutamol sulfate can be passed into breast milk, this is a small amount that is unlikely to harm your baby, especially if used infrequently. Again, it is important to ask a medical professional just to make sure as the levels of asthma that Ventolin can treat does vary massively.